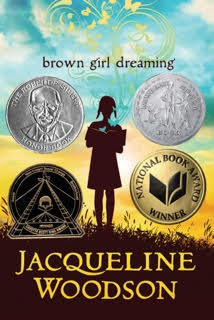 Adelphi alumna Jacqueline Woodson opens Brown Girl Dreaming—her National Book Award–winning memoir written entirely in verse—with a poem titled for the day she was born in Columbus, Ohio, "February 12, 1963." In it, she writes, 
I am born as the South explodes
too many people too many years
enslaved, then emancipated
but not free…
Starting life amid the upheaval of the Civil Rights Movement, Woodson is accustomed to social change. She encapsulates it in her verse and prose and seeks to create it through her writing, which is aimed mostly at younger readers. Change "is what I've always known," she said. The author of dozens of titles, from picture books to novels, she has won many of the most prestigious awards for young people's literature, including the Newbery Honor, the Caldecott Honor and the Margaret A. Edwards Award for lifetime achievement in writing for young adults. Most recently, she was named the Young People's Poet Laureate by the Poetry Foundation.
Growing up in Greenville, South Carolina, and later in Brooklyn, New York, Woodson had a child's vantage point of the Civil Rights Movement. In Brown Girl Dreaming, she writes about watching teenagers being arrested for sitting in stores "where brown people still aren't allowed to sit." Even her mother joined in the peaceful protests. Later, Woodson questioned why Angela Davis was named one of America's Most Wanted.
Already, there are so many things I don't
understand, why
someone would have to die
or even fight for what they believe
An avid reader, Woodson found plenty of what she refers to as "windows" or insights into the world and the way other people, particularly white people, lived, but few "mirrors"—reflections of her own life and the people she knew and grew up with. "It was this deeply seeking something I couldn't articulate as a child that was missing," Woodson rescalled. An a-ha moment came when she stumbled across John Steptoe's picture book Stevie and found characters who "spoke like my family and looked like my family, and it was like, 'Wow, it can be like this,'" she said.
The revelation fueled her youthful dreams of being a writer, at first to "create a body of literature for myself," she explained; later it was "so other kids could have it too."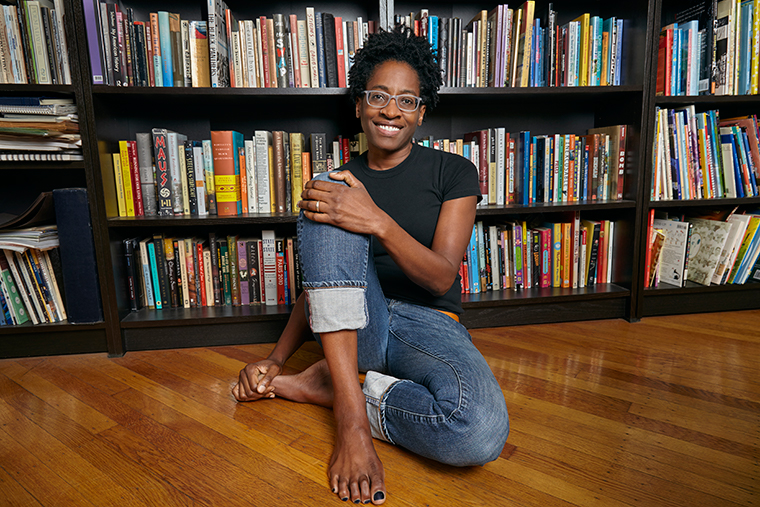 While at Adelphi, Woodson penned her first novel, Summer With Maizon, about two African American girls from Bushwick, Brooklyn, who are separated when Maizon leaves for boarding school. Woodson brought the manuscripts to a writing class she took in New York City. The evening her instructor read from her manuscript, an editor from Bantam Doubleday Dell was in the room and offered to buy the book. "But then she quit so it sat on the shelf for a little while and then Wendy Lamb took over. Now she's pretty well known in the world of children's literature and she became my editor for many, many years." That book sparked a trilogy, and 25 years later, Woodson has introduced readers to many more African American characters like the ones she longed to read about as a girl.
Woodson's novels are rooted in issues both unique and universal to many African American children—parental loss, changing friendships, racism, poverty, classism. Many of her books are set in and around New York, particularly Brooklyn. She said her aim is to offer both windows and mirrors; children of color see themselves and their lives reflected in her work, "across lines of race…and economic class and gender and sexuality and all the ways in which the world is diverse." Concurrently, her work provides those windows to children who have not had these experiences. "I think that's how literature changes the world in general, so that's what my literature does," she explained.
Woodson has firsthand proof that her work is changing the world—i.e., through reader reactions. She said that in letters, readers write such comments as "This is the first time I thought of myself as able to be a black girl who writes," or "I'm an old white woman who retired as a teacher; when I read your book Each Kindness it was the first time I had an experience that I had as my younger self."
Woodson credits her family with giving her the ability to look at the world from multiple perspectives and, in turn, create characters who do the same.
"I had this family saying basically 'You're more than, and you better be more than,'" Woodson recalled. Their message ran counter to the ones she picked up from the broader society, which was "trying to say that people of color are lesser than."
It was perhaps these opposing viewpoints that made her experience as an undergraduate at Adelphi a difficult one. After her sister, Woodson was the second person on her mother's side of the family to go to college. She chose Adelphi because she was offered an academic scholarship, which she subsequently supplemented with an athletic scholarship as a member of the track team.
Woodson found supportive and inspiring professors, such as sociology professor Sally Ridgeway, Ph.D., and made lifelong friends. She even joined the cheerleading squad. But, overall, she recalls feeling isolated and uncomfortable in what she described as a segregated campus environment. "It was interesting because I had white friends, so I was a little bit ostracized by the black kids and then a lot ostracized by the kids who had never encountered black people; so it was a learning experience."
She majored in English—the only student of color in the department—and encountered "great professors" but ultimately left before earning a degree.
Scores of books later, Woodson acknowledges that her life has changed. For example, she has crossed economic lines from growing up in a loving but underprivileged African American family to raising an affluent, privileged one. And the world has changed, but not enough. Woodson said, "I'm one of two people of color on our block" in Brooklyn's Park Slope neighborhood. "The world is still very segregated."
Woodson spoke about her 1994 book, If You Come Softly. "It was about a boy who gets killed in a case of mistaken identity, a black boy who gets killed, and it was right before Amadou Diallo."
She added, "The black community was always very aware of racial profiling and police brutality and things like that. I think the change now is that the white community is aware of it because of Trayvon Martin and Eric Garner and all of those people…I feel like there are more allies in the world because more people are concerned with all human rights, and the president is of color, and the perspective is shifting. But I still feel like my work is definitely not finished."
About Adelphi: A modern metropolitan university with a personalized approach to higher learning.
Adelphi University is a highly awarded, nationally ranked, powerfully connected doctoral research university offering exceptional liberal arts and sciences programs and professional training with particular strength in its Core Four—Arts and Humanities, STEM and Social Sciences, the Business and Education Professions, and Health and Wellness. Adelphi is dedicated to transforming students' lives through small classes, hands-on learning and innovative ways to support student success.
Founded in Brooklyn in 1896, Adelphi is Long Island's oldest private coeducational university. Today Adelphi serves nearly 8,000 students at its beautiful main campus in Garden City, New York—just 23 miles from New York City's cultural and internship opportunities—and at dynamic learning hubs in Manhattan, the Hudson Valley and Suffolk County, and online.
More than 100,000 Adelphi graduates have gained the skills to thrive professionally as active, caring citizens, making their mark on the University, their communities and the world.